Salem NH
Lighting Services
Bring your Backyard to Life at Night! Extend the use and
Functionality of your Outdoor Living Spaces.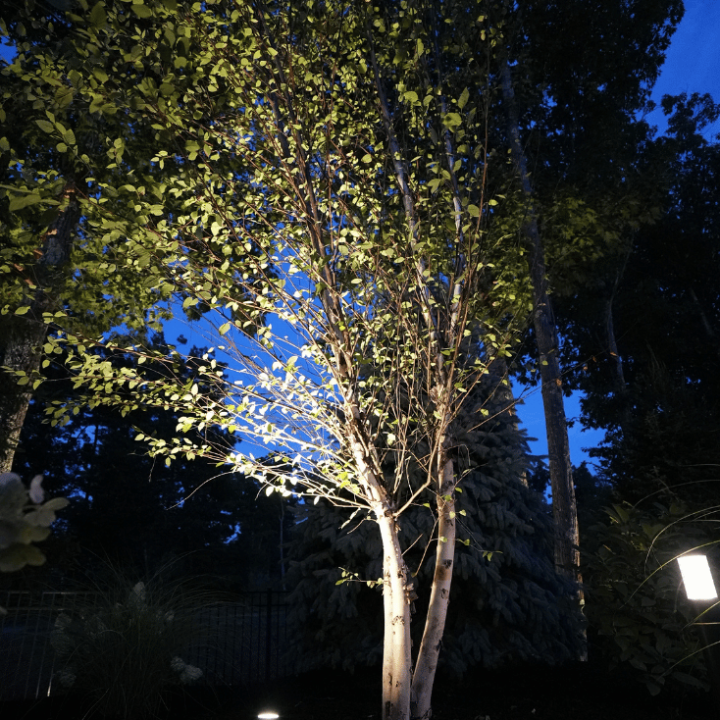 Lighting Design & Installation - Salem NH
Lighting design and installation are crucial pieces to your outdoor living experience. After our team determines the use of an outdoor living space we will design the lighting to increase the function, Appearance and safety of that space throughout the night.
Our installation process is swift and efficient, minimizing any disruption to your landscape while delivering exceptional results. We understand that every property is unique and requires a customized lighting plan to enhance its beauty and functionality. We take pride in our attention to detail and commitment to providing exceptional service. Whether you need lighting for your home, business, or outdoor living space, we have the skills and experience to exceed your expectations.
Residential UpLighting - Salem NH
Residential up lighting is a unique way to enhance the look and feel of your home. It adds a dramatic touch to your landscape and architecture, highlighting key features of your property. With the right placement and design, up lighting can create a warm and inviting ambiance for your guests to enjoy. We use only the highest quality materials and state-of-the-art technology to ensure a flawless installation that will last for years to come. Trust us to bring your home to life with our expert residential up lighting services.
In addition to providing an aesthetic enhancement to your property, residential up lighting can also improve your home's security. By illuminating the exterior of your home and surrounding landscape, potential intruders are deterred, making your home a less likely target. From selecting the right fixtures to helping you pair the lighting to your phone, we handle every aspect of the installation process to ensure your complete satisfaction.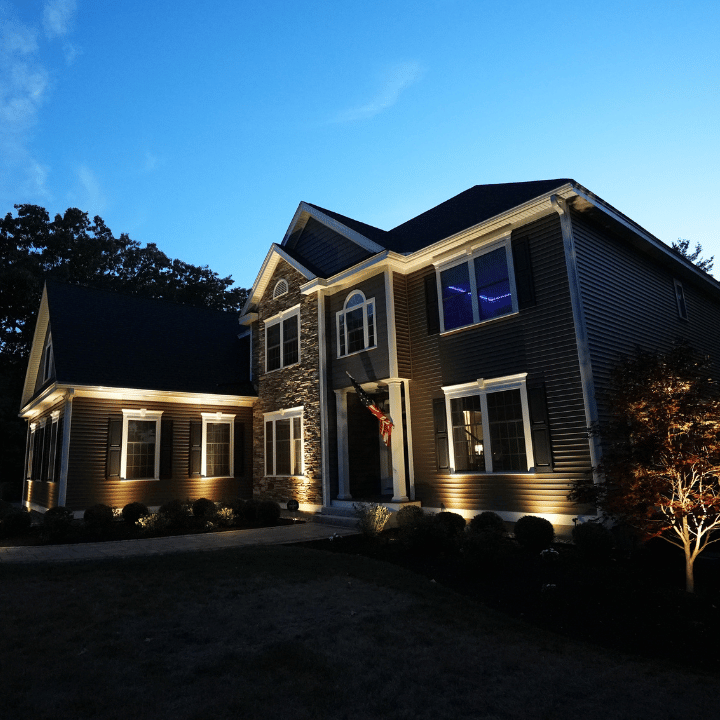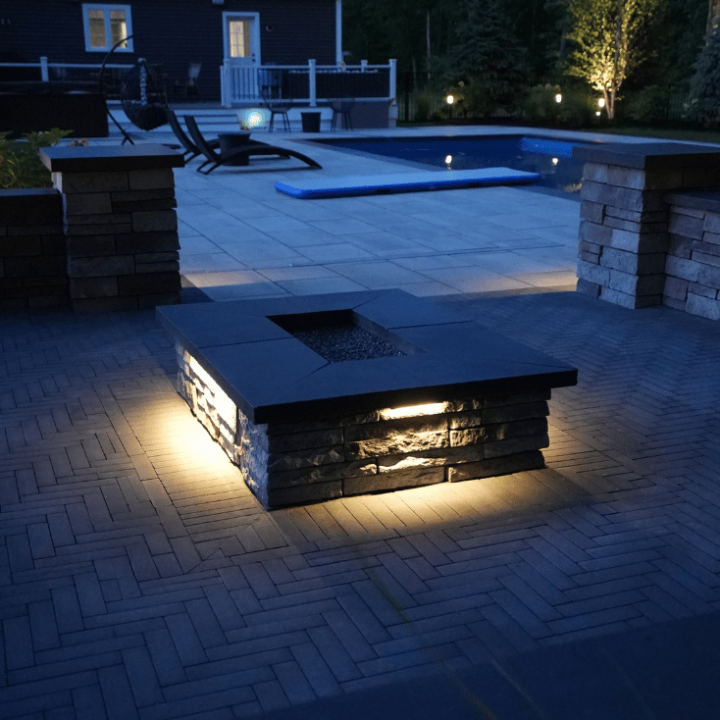 Hardscape Lighting - Salem NH
Our hardscaping lighting service offers a range of options to highlight the beauty of your outdoor space. Hardscape lighting can be included in features such as patios, decks, walkways, and retaining walls.
We use only the highest quality materials and fixtures to ensure longevity and durability of your lighting system. With our attention to detail and expertise, you can trust that your lighting system will be both functional and aesthetically pleasing.
Walkway & Path Lighting - Salem NH
Walkway path lighting can make a significant difference in the look and functionality of your outdoor space. Not only does it provide a safe and secure walkway for your guests, but it also adds an elegant touch to your property.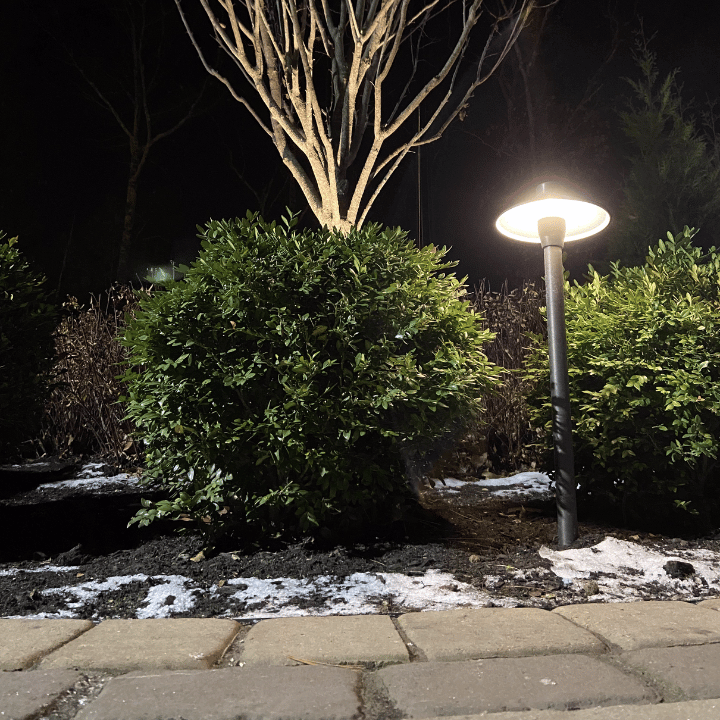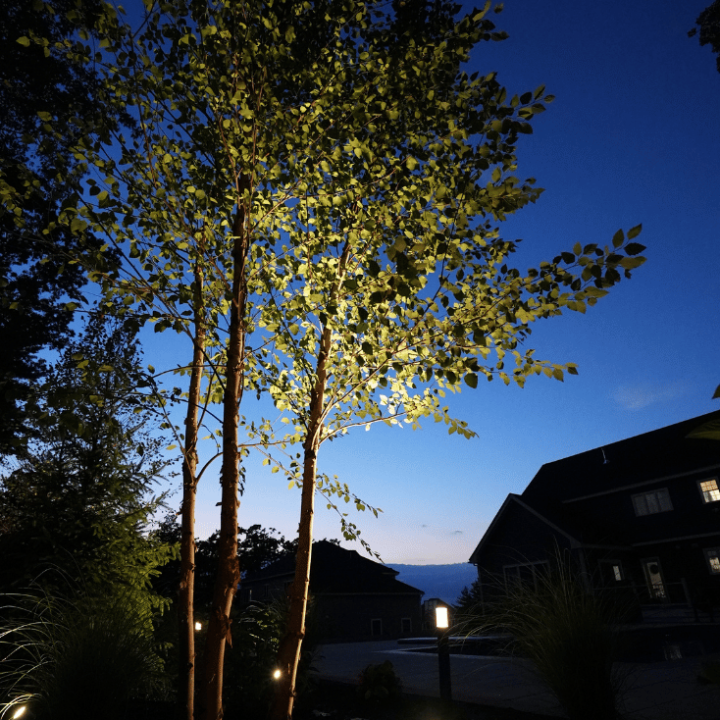 Tree Uplighting - Salem NH
Tree lighting services can transform your property and bring an enchanting feel to your outdoor space. Our tree lighting services not only add an element of beauty to your outdoor space but also provide added security and safety. Illuminated trees provide a safe environment for guests to navigate your property in the evening, and deter potential intruders.
We offer a range of options for lighting, including warm and cool-toned lighting, as well as customizable colors and effects. We will work with you to create a lighting design that complements your property and highlights the unique features.  Whether you're looking to add a subtle touch of elegance or make a bold statement with your outdoor lighting, we have the expertise and experience to bring your vision to life.
Transform your Backyard today!
Our comprehensive landscaping services include design, build, hardscaping, landscaping, and
stunning lighting solutions, creating exceptional outdoor living spaces.